The ultimate control tool for your LED lighting using pixel mapping at its best in 2D or 3D
An award-winning software for generative visuals and effects, and leading LED lighting controller
CONTROL
From the smallest projects to the biggest ones – get the best out of your LEDs. MADRIX 5 can produce a complete LED light show from a normal computer or laptop. Still, it can drive tens of thousands of LEDs without problems. This powerful software will not only allow you to control nearly any 2D LED display in every possible way, but real 3D LED applications as well. This makes it the ideal solution for your LED project.
FLEXIBILITY
Bring your LED design to life with beautiful colors, stunning visuals, and spectacular effects. MADRIX 5 adapts to your needs. Use it as LED lighting controller, VJ software, 2D pixel mapper, 3D voxel mapper, media server, or media creator. This software is easy to use with a VJ-like operation, 2 decks and a crossfader, plus 3 real-time previews to show your effects in advance.
2D Mapping
The MADRIX 5 Software makes it possible to control numerous LED fixtures; also of different kinds. Position them according to your needs in nearly any form or shape. Map pixel by pixel and achieve pixel-perfect results, even with the lowest of pixel resolutions. The result are crisp and sharp visuals on your LEDs.
3D Voxel Mapping In X, Y and Z
MADRIX 5 provides a leading-edge feature set to fully control real 3D LED matrices. MADRIX 5 supports volume rendering (voxel mapping). This approach is fundamentally different to the 3D projections or the physical layout of 2D surface areas that are widely known nowadays. It makes your installation state-of-the-art.
Combine 2D and 3D
Combine any 2D project with 3D elements in order to create even more spectacular attractions for your audience, customers, and clients. MADRIX 5 is a powerful tool that will help you realize the projects you want to build. Mapping LEDs is fast, creative, and fun. MADRIX 5 certainly takes your LED display to the next level.
Industry Standards For Output
MADRIX 5 excels in flexibility. You can directly connect to a wide range of LEDs and compatible first-party or third-party LED controllers.
DMX-Based Output
Art-Net (I, II, 3, 4) (Unicast & Broadcast)
DMX512
Philips Color Kinetics
KiNET (V1 / V2)
Philips Hue
SPI (via MADRIX NEBULA )
Streaming ACN (sACN / E1.31) (Unicast & Multicast)
DVI-Based Output
ColourSmart Link
Colorlight A8
Colorlight 5A
Colorlight T9
DVI (VGA, HDMI, and more)
Eurolite T9
Industry Standards For Input, Interoperability, Remote Control, And Audio
MADRIX 5 easily integrates with other lighting desks, consoles, controllers, and many other hardware or software tools.
Art-Net (I, II, 3, 4)
ASIO
Blackmagic Design (DeckLink, Intensity, and more)
CAST Software BlackTrax (via MADRIX Script)
CITP
DMX512
GamePort
MA-Net 1 / MA-Net 2
MADRIX I/O 
MADRIX ORION 
Media (Images, Pictures, Logos, Videos, Text, Live-Signal Capturing, Screen Capturing)
MIDI
NewTek NDI (Send & Receive)
Remote HTTP (Web Server)
Spout (Send & Receive)
Streaming ACN (sACN / E1.31)
Time Code
(Art-Net / MIDI / SMPTE / System Time)
WDM
More options are available via converters or bridging tools
Output is defined through MADRIX 5 KEY dongle licenses
MADRIX 5 Licenses
Different licenses are available for different needs and project sizes.
The MADRIX 5 USB dongle unlocks the software's full output. You can freely switch between different PCs as it is not bound to a specific one. It only needs to be activated online once.
You can easily upgrade your MADRIX 5 Key to any higher license at any time, increasing the available output.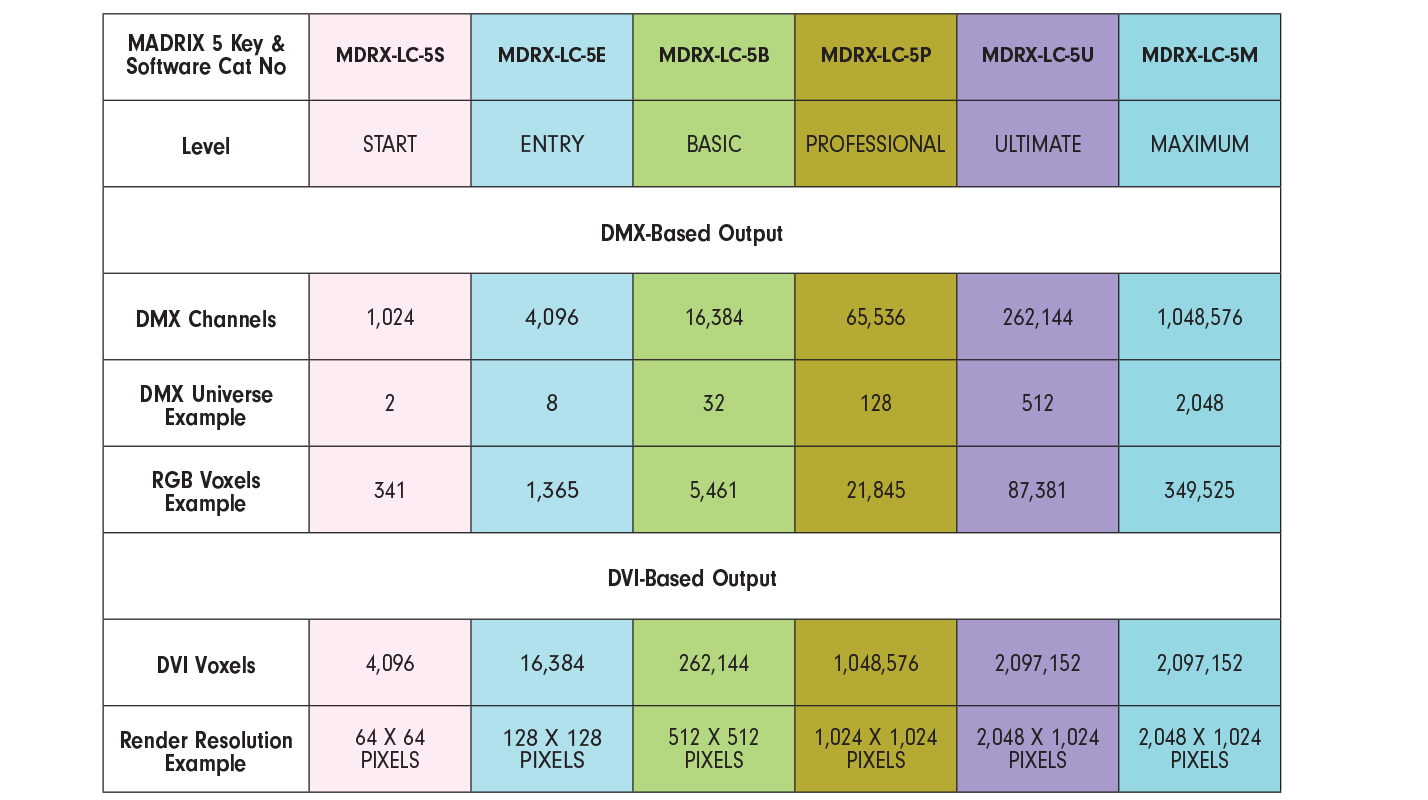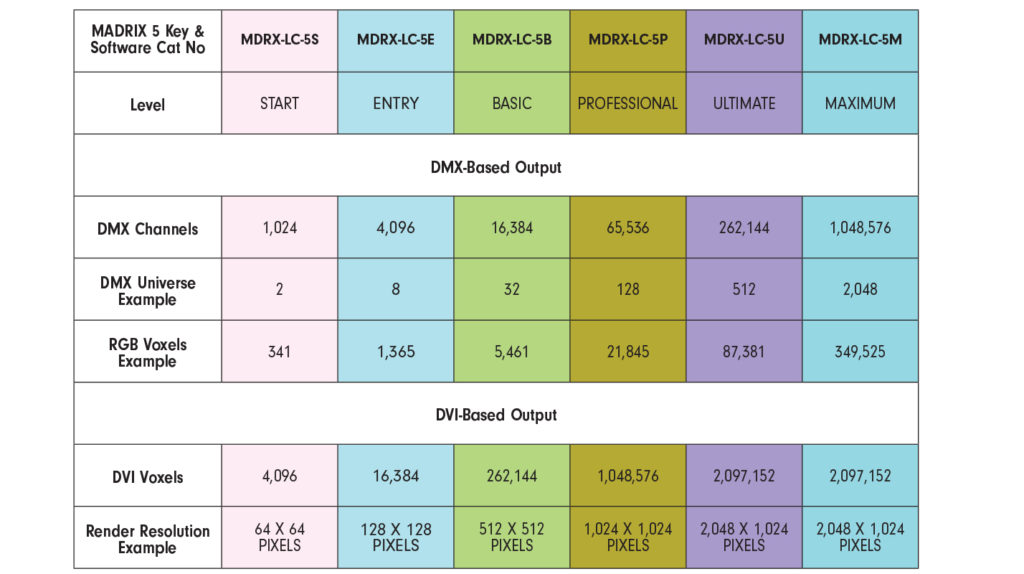 You Can Serve Media
Use the media server features and conveniently load and play back images, pictures, and videos. Or use live video signal capturing, screen capturing, scrolling text (ticker), and more. But what if you are not using a video screen at all? Videos are great media for rectangular screens, but the possibilities are quickly exhausted for creative 2D LED setups or even more so for 3D.
Video Is Not Enough?
MADRIX 5 is an effect generator with media server features and outstanding capabilities to display unique real-time effects on your LEDs. This is the main advantage. Endless stunning and fully customizable visuals are created live for you by you with the built-in graphics engine and rendering engine. From simple colors to sophisticated visuals – all is possible.
Audio-Reactive Visuals
MADRIX 5 features a state-of-the-art audio analysis. It can process any live audio signal and create stunning real-time lighting visuals. These live effects will create a light show that runs in sync with your music. And thanks to the integrated effects generator, you can also create many lighting patterns without audio input. On top, you can customize all visuals at an unprecedented level.
Total Creativity
Creating stunning light effects has never been easier. Use video-like visuals without the need for videos. Creating videos specifically for a project can be time-consuming, costly, and unpractical. Let the software produce stunning effects, visuals, and animations for you. You can always quickly change everything, such as speed, color, shape, direction, size, movement, position, brightness, and much more.
MADRIX Effects
Choose from 5 different effect categories and over 55 built-in effects. SCE Effects do not require any sound and make up the most diverse set of patterns and effects. S2L, short for Sound2Light, brings your audio input to life. M2L, short for Music2Light, takes audio-based effects to an even deeper level. MAS allows you to create effects from scratch with the help of the advanced MADRIX scripting language. TRI, short for Trigger, adds a whole new level of interactivity as you can set off visuals with your manual input.
LED Fixtures
The library already includes a large variety of fixture profiles. Use 1-channel, 2-channel, RGB, or RGBW fixtures, or any variant of these. Use the Fixture Editor for your own profiles. With MADRIX 5, it is easy to manage the wide range of fixtures, such as pars, tiles, tubes, tape, curtains, video screens, and more. Combine DMX-based and DVI-based LED products as needed, use different fixture types in the same setup, and control the whole installation or only parts of it. With MADRIX 5, you are in control.
Built-In Tools
In addition, the software includes a full range of helpful and productive tools. This includes the Fixture Editor, but also the Art-Net Time Code Sender. There is also the Logfile, Preview Benchmark, and MADRIX Device Updater, as well as tools for restore and quick support. You can also use the DMX Fader Tool for single channel control or the Task Watcher, MIDI Watcher, and DMX Watcher for performance and data monitoring.
What's In The Box
(1) empty MADRIX KEY
(1) USB flash drive incl. MADRIX 5 Software and MADRIX RADAR Software
(1) lanyard
(1) quick start guide.
All user manuals are provided digitally. Please see Specification Tab for PDF downloads.
madrix 5 SALE INFORMATION